Glenn Kitson Likes Coats
---
04.09.14 / Words: Daniel Sandison / Images: Noah Kalina
---
Glenn Kitson likes coats. Really, really likes coats. Shoes as well. We caught up with Bolton's third best export (argue amongst yourselves) to talk about his really good magazine The Rig Out, styling for Timberland and Mr. Porter and going to Hawaii with Mogwai…
"Every summer now, I go to Pitti Uomo in trunks. I've got these flowery Ralph Lauren trunks and I just wear the same thing. Fuck it. Y'know what I mean? All the Italians there have got blue blazers and Mancini haircuts, they look the bollocks, but I don't know how they're not sweating. It's the middle of summer.
Daiki Suzuki (Engineered Garments), who I've got loads of respect for, gets mobbed over there. Everyone is all over him. They don't realise he's just this normal guy, he likes getting pissed, he likes having a laugh, he's not this very serious dude. He's chilled out, he's a surfer. All these menswear fellas are very serious, and like 'Um, this season's fabrics with Daiki', but he's not like that. The first year I wore these shorts, he came up to me and was like 'Glenn! YESSS!' – I was buzzing. So that's it. I wear them every year."
A relatively late starter due to, in his words, "having a bit of a past", Glenn began his career through the suspiciously Northern artform of knowing loads and loads about old trainers and coats. "I was always into clothes and things were, frankly, going a bit shite, so I moved to Bournemouth and got involved in a vintage shop. Loads of vintage places at the time would buy in bulk from The States, and they didn't know what they were going to get, they'd just buy half a ton of stuff and then sort through it. Early on, this fella I was working for, made a conscious decision to not do that. He'd go out and get really good stuff from British and European sources.
He was in a good position, as he was basically the only good vintage store on the South Coast, aside from maybe in Brighton. What you've got down there is millions of old people, who keep dying all the time, with houses full of good shit that would end up in his shop.
I'd originally got involved to source Danish mid-century furniture, but more and more he began asking me about sportswear that was coming in. He didn't have a clue about stuff like that, so he'd refer to me. 'Glenn what's this?' and I'd go 'It came out in 1984, it's a PU soled adidas'. Then he could go on and sell it. That's how I got into all this really. By being a geek about trainers."
Glenn tells us this whilst perched on a sofa in the incongruently luxurious surrounds of Ridley Scott Associates in Soho, as Michael Fassbender's suit from Prometheus stands in the corner and Harrison Ford's massive, handsome face stares at us from a poster on the wall. Things have moved on somewhat from second-hand Forest Hills. How did that happen?
"Fortunately I had friends who were going down a similar path, and they said 'look, you've got to get educated'. My mate Gary (Aspden, adidas) suggested a course for me to do and kind of mentored me, really. He introduced me to people and helped me through my degree.
It was a fashion degree, so for the first year and a half I was making dresses. Literally, making dresses. Pattern cutting and that. I was the only straight lad on the course. There were four gay lads and then the rest were all middle class, southern girls, so I'd be sat at the sewing machine in the morning going 'Anyone watch the Villa game, last night?' trying to overcompensate, because it all felt a bit weird.
After a year-and-a-half though I started to focus on the communications side of things, the art direction, the more graphic and marketing elements of brands and fashion. What that did for me though, that year and a half of making dresses, which I was really shit at by the way, it gave me the knowledge to be able to talk to designers. If one of them mentions a certain pocket or stitch, I know what they're on about and don't look like so much of a dickhead."
Some years later, just back from shooting a video with Mogwai in Hawaii, with the director of Blade Runner's name on his stationery, successful campaigns for Timberland, Rapha and adidas, as well as a Mr. Porter styling credit under his belt, it seems that it may have been worth all that learning to sew. How does The Rig Out feed into all of this?
"The Rig Out started because we felt there was a group of consumers, who were spending a lot of money, with absolutely nobody communicating with them. These were people who wouldn't buy I.D or Dazed and Confused and weren't interested by GQ's fifty grand watches for Tories. They were plasterers and builders, so they had loads of money. Every weekend they'd buy a new jacket, but brands weren't targeting them. They weren't into fashion, they were just into good jackets, good footwear, good product really. Nobody was talking to them, so we thought we would.
As a result of what we've done, which is all about images and design, we've developed into more of an agency. We get commercial jobs where we'll produce traditional advertising, we'll do the below-the-line advertising of online content creation as well. We may have veered off it a bit, we're pulling it back all the time.
With Mr. Porter or anyone, it's got to be the same. That's not to say it can't be conceptual, or have its own artistic merit. I like art. I take the piss out of it because it's funny, and if you take yourself too seriously, as far as I'm concerned, you're there to have the piss taken out of you. You can be into stuff though. Our art director, Andy Bird, who is a proper, proper genius by the way, he's as Geordie as you're gonna get, he loves art. Everything from renaissance to contemporary art, he's into it. If you try and get him to talk about it though he becomes this really conflicted Geordie, all 'Shut up.'
The Rig Out was just a chance to present shit that we're into though. That still stands."
Enjoy that? You might also like this...
Palladium x Togs And Clogs
---
04.09.14 / Words: Matthew Staples / Images: Amy Walsh / Styling: Matthew Staples
---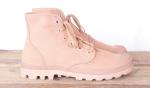 With one foot in the history of aviation, the French Foreign Legion and the rugged terrain of the Atlas Mountains, and the other firmly in the high-tempo, neon-tinte... Read More
Passport Required: Mundial x Oi Polloi
---
04.09.14 / Words: Daniel Sandison / Images: Michael Kirkham / Styling: Matthew Staples
---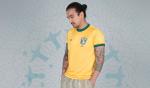 England: Gary loves beer, gear and throwing garden furniture. He wears Stone Island Zip Sweatshirt, Norse Projects ... Read More