Hulme Estate: The Best of Times, The Worst of Times
---
02.06.15 / Words: Jonathan Frederick Turton / Images: Al Baker
---
The Architects Journal once described Hulme Crescents, Manchester as "Europe's worst housing stock".
During their brief nineteen year existence, between 1972 and 1994, before being unceremoniously ripped down, 'The Crescents' gained notoriety for crime, drugs and poverty. As well as blinding parties.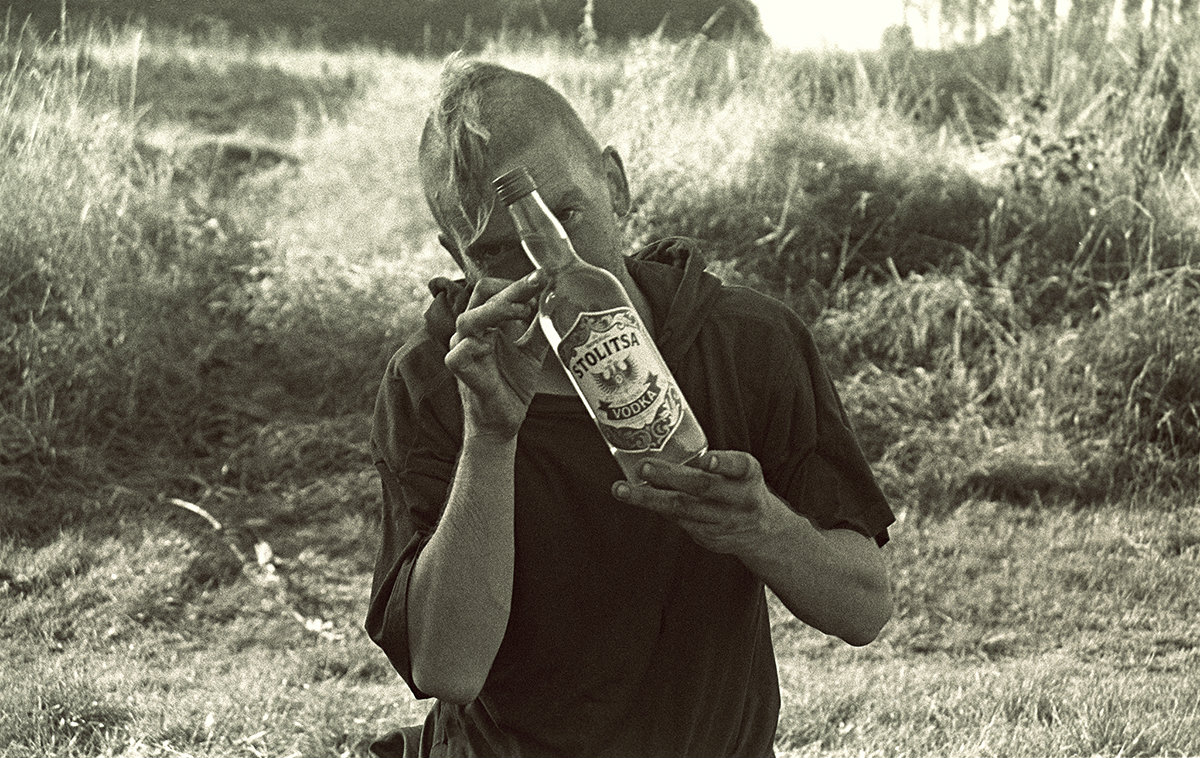 A product of 1960's slum clearances, it was to be Britain's largest public housing development. Yet within a year, marred by design flaws as well as inadequate heating and pest infestations, the scheme was deemed unsuitable for families.
By 1984 Manchester City Council had stopped collecting rents there, making it fertile ground for bohemian subculture.
Credited by many as the birthplace of Factory Records and counting Ian Brown as a former resident, it couldn't have been all bad, could it? We asked photographer and inhabitant Al Baker's opinion, who extensively shot the estate during his stint there.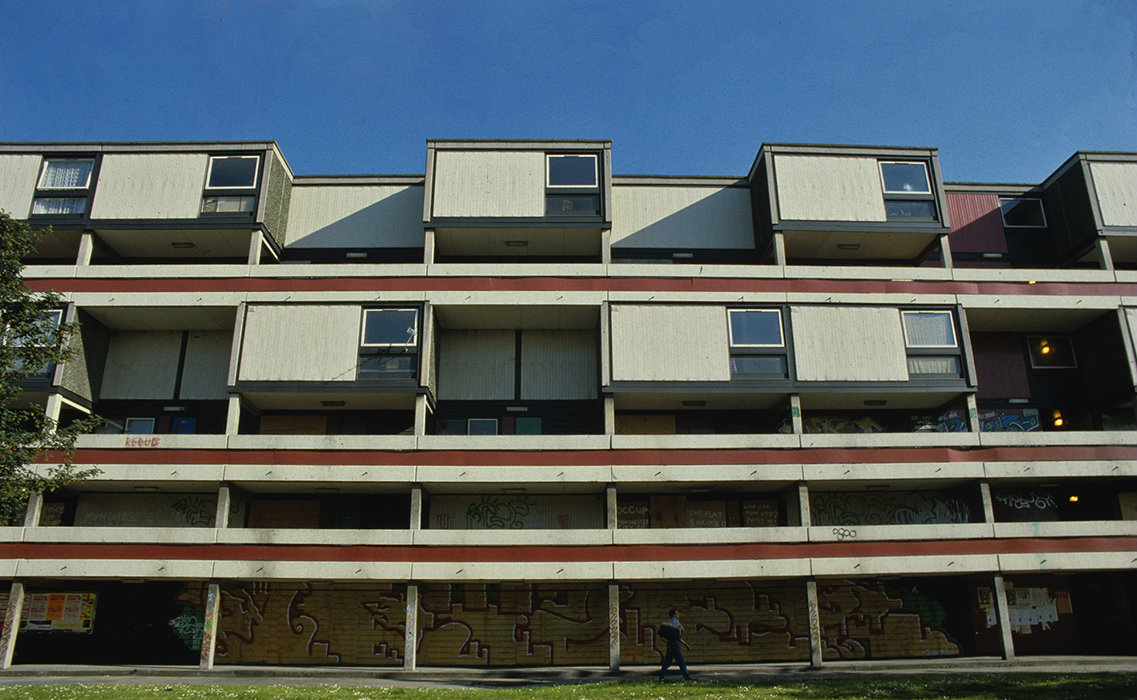 What was so unusual about Hulme Crescents?
It was quite unlike anywhere that I'd ever lived before. It looked like a fascist dystopian nightmare. Only one peopled by Rastas and Anarchists.
Along any landing you might find a punk squat, a gay couple, a home-counties hippy, come-and-go scallies or some old dear. Students, drop-outs, musicians. Irish, West Indians, Mancunians.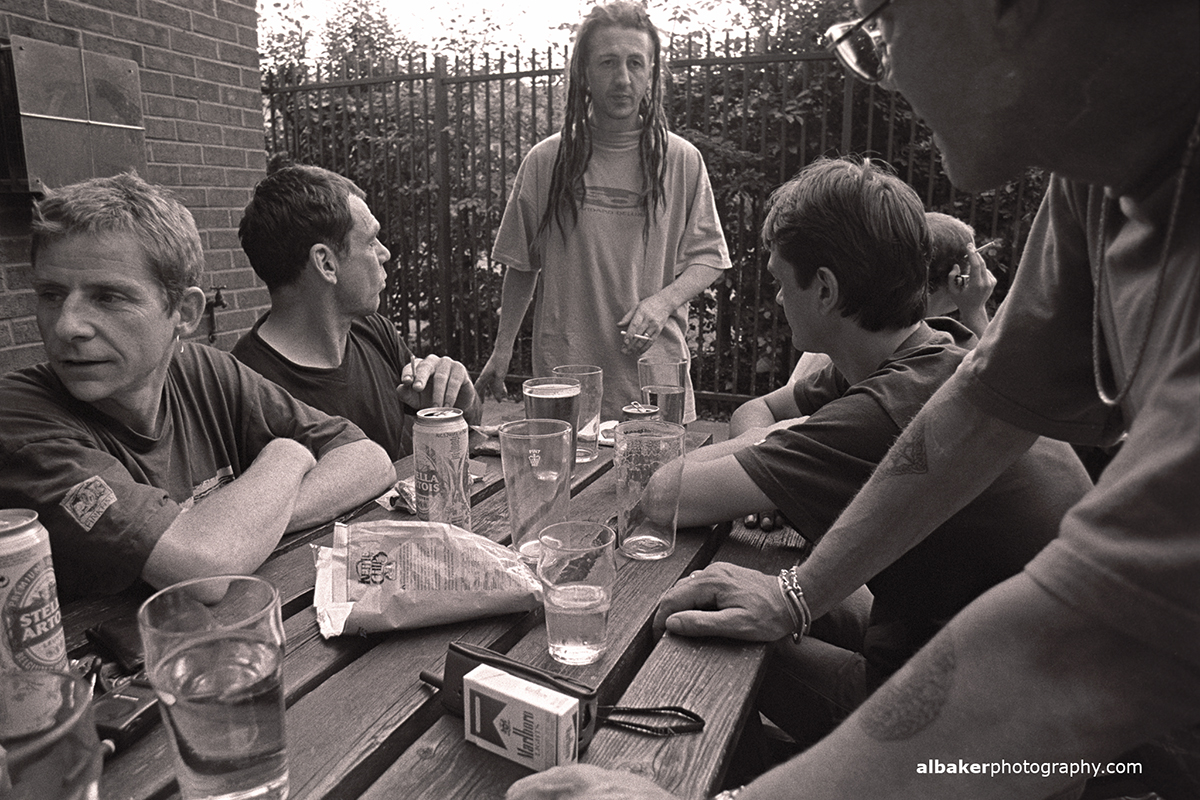 When I lived on Salter Square this Rasta ran a Roots/Reggae pirate station just around the corner.
One evening in summer I spotted him running across the roofs with his transmitter as I sat out on the walkway. He clocked me too and, when he came down, ambled over. He felt he should explain and introduce himself. He was no burglar. He was a DJ & promoter. Said I should tune in and told me the bandwidth. We said hello to each other every time we passed on the walkways after that.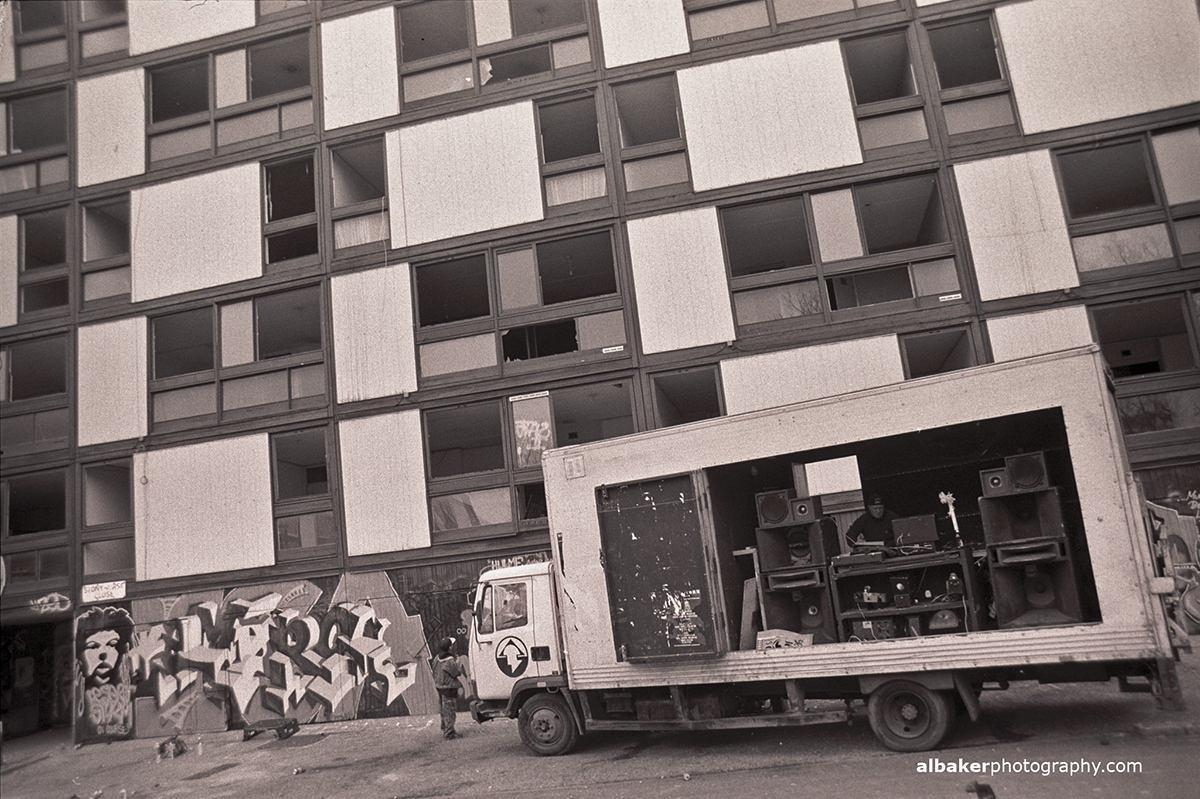 What factors contributed to Hulme Estate's unique flavour?
All sorts. Concrete architecture, interconnecting walkways, few through roads, a fortress feel to the place. The cultural melting pot of people, attitude, music.
It had been a '60s slum clearance that uprooted an entire community.
An urban dream designed along Le Corbusier architectural concepts. Modern proletariat cities in the sky. He said "Space and light and order, those are the things that men need just as much as bread or a place to sleep". More worryingly, he also said "Designing a city is like playing with the objects on your breakfast table".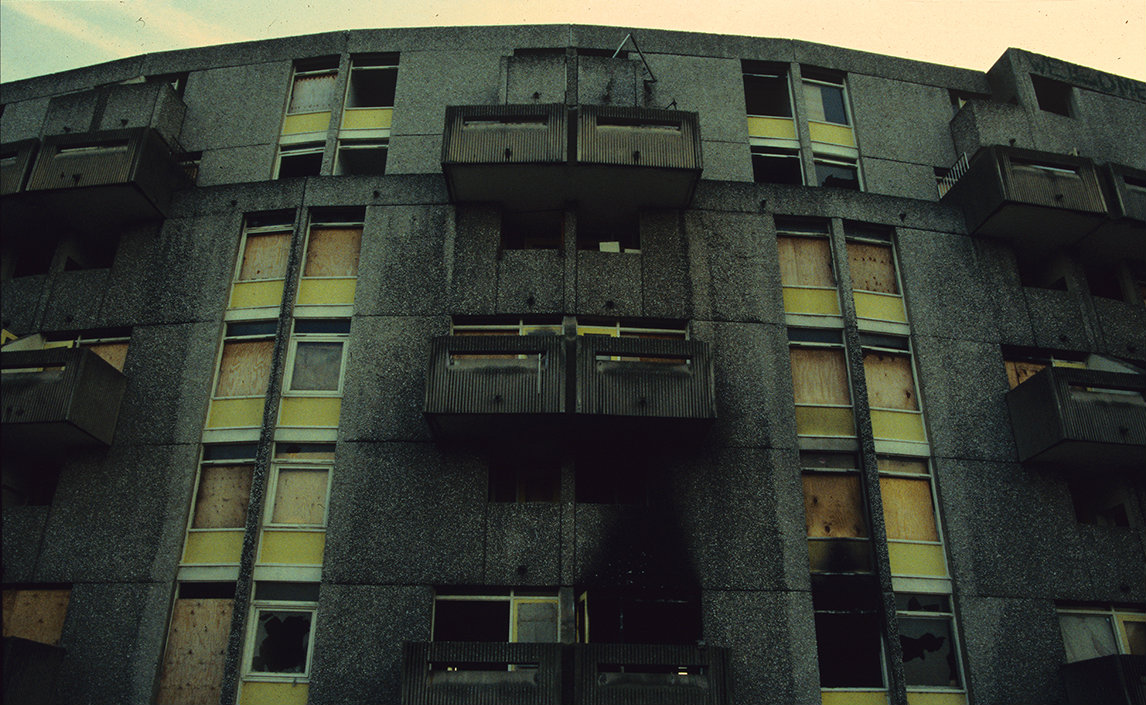 It was done on the cheap. Lifts and heating worked intermittently. Police were unable or unwilling to patrol the walkways. It became a real disaster for the council. An embarrassment.
Young families and old people soon abandoned ship. Hippies, punks, students, artists and anarchists moved in when they left. Most people just moved into an empty property. They would hand the keys over to someone down the pub when they left. It soon became a kind of no-go zone that was declared derelict by those who had built it.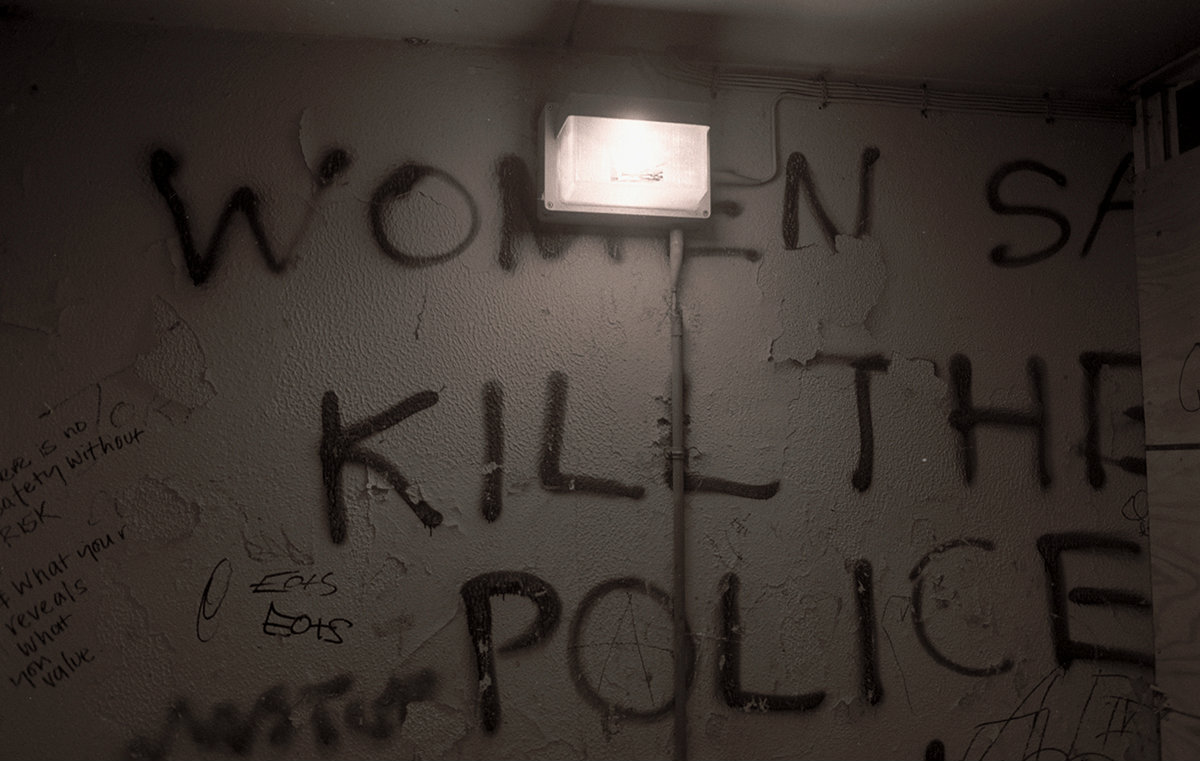 At what point did you realise the place would make for a good photographic project?
Pretty soon after moving in! The entire estate was earmarked for demolition when I moved there. Everyone else was busy moving out. If I'm honest I was spending a hell of a lot of time there already, post-Hacienda, lost weekends.
At first I photographed the architecture then began to document the graffiti art that was spreading out across the estate. I got to know the artists and would follow them, photographing them at work in black and white and their finished pieces on colour transparency. My first exhibition grew out of those images.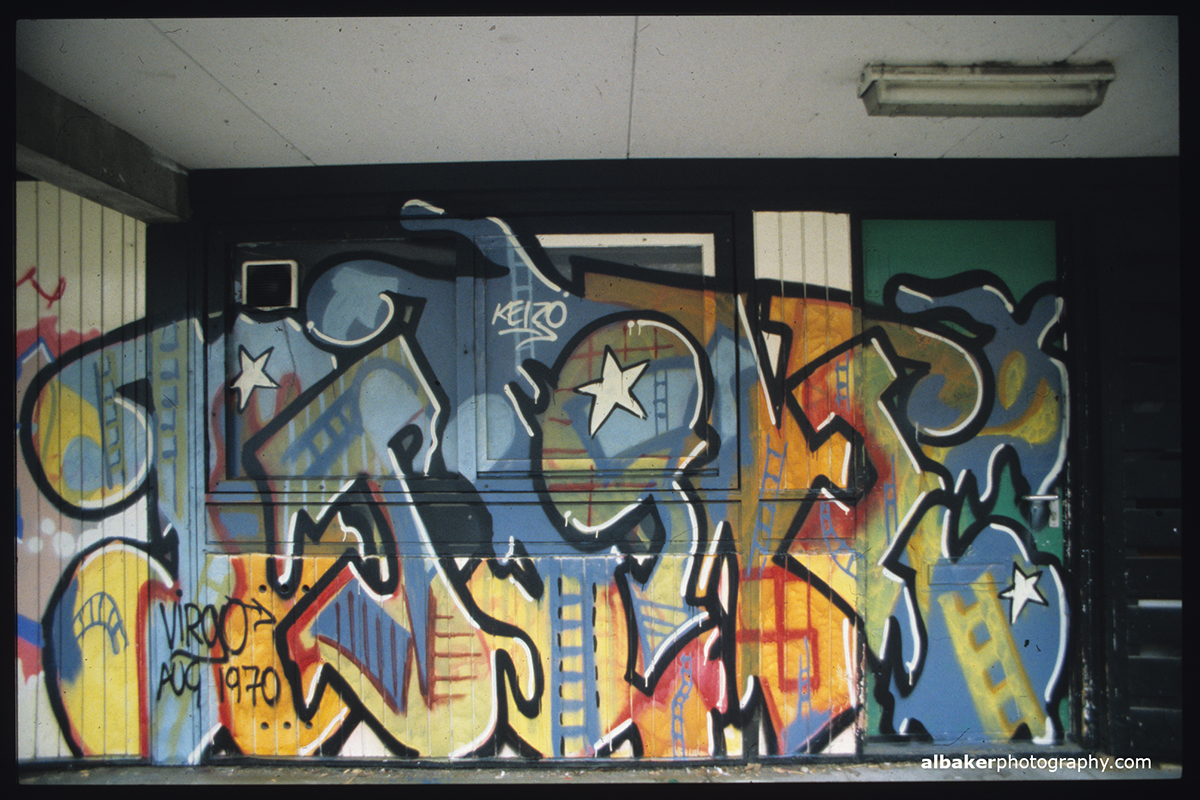 Could anyone have taken these photos or did your immersion in the community allow special access?
Media types often came for that 'gritty urban feel'. Not everyone got to leave unmolested or with their gear intact. It wasn't the easiest place to find your way around if you didn't know it well.
It all looked uniformly grim to an outsider. It was quite intimidating.
We used to watch TV crews or art students from the walkways, obviously lost. We might go down if mountain bike vultures circled. People looked out for one another. You might walk someone elderly safely back from the Post Office or an old Irish fellah back home from the pub.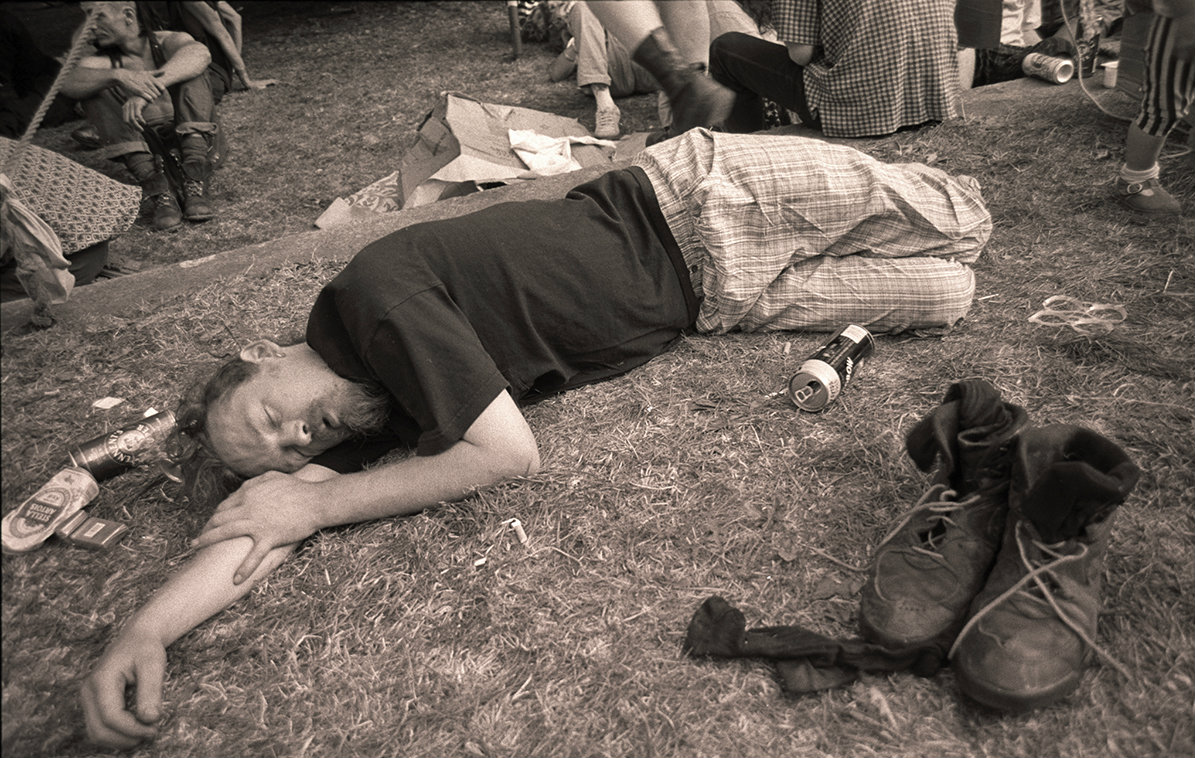 I did used to wear my camera beneath my coat, and carried all my film and lenses around in a Kwik Save shopping bag so I didn't attract too much attention. I got into the habit of handing that bag over the bar wherever I ended up. I would collect it the following day if I could remember where I'd been! God bless you, saintly barmaids of Hulme.
People have mixed opinions about the area. Yours seems quite positive. Why?
There were lots of relatively young people. There were traces of the old Irish families, interwoven with the Windrush generation and their children.
There was an artistic and cultural flowering in these ruins.
A Certain Ratio, A Guy Called Gerald, Dub Sex, Edward Barton, Ian Brown, Ian Tilton, Lemn Sissay, Mick Hucknall all passed through at one time or another. It was home to the Factory (which led to Factory Records and the Hacienda). The same venue was later hosting raves and jungle nights. It was a good time to be young.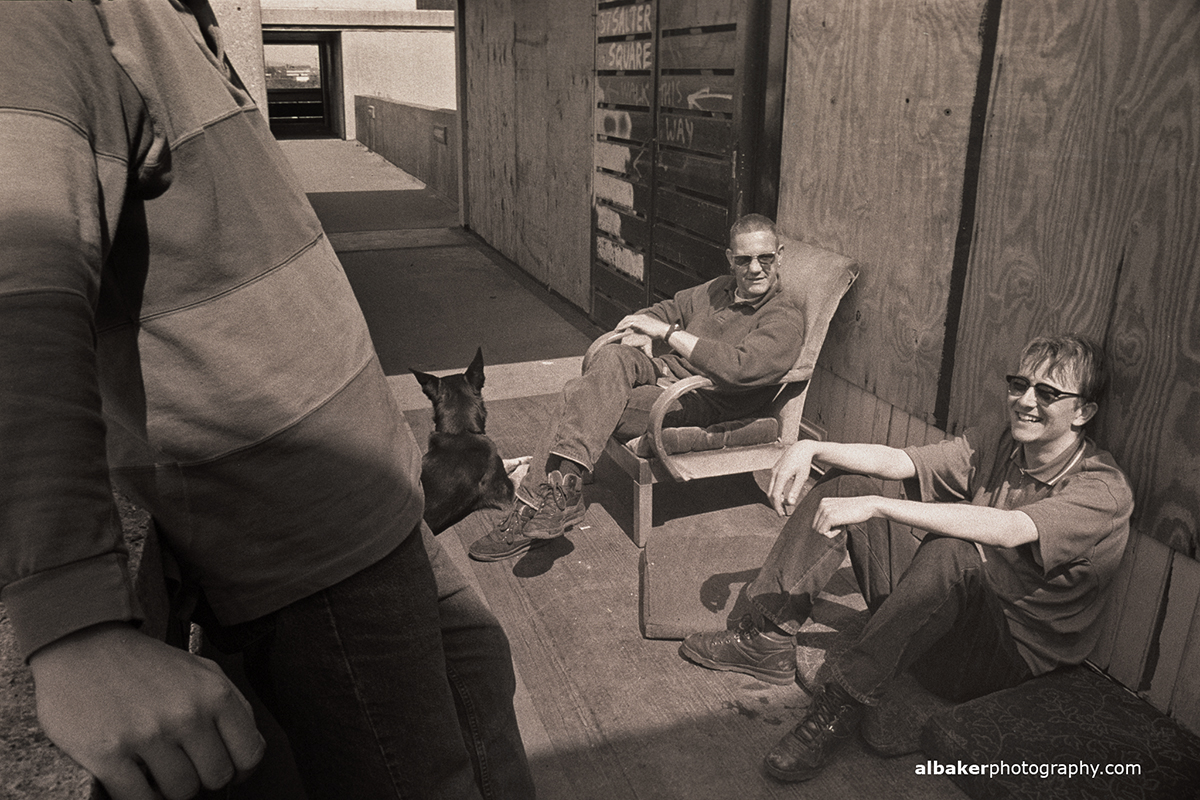 It was somewhere to crash, to create, somewhere to stay, begin again. At the time unemployment was high and expectations low. It was a real melting pot of disparate groups of people huddled together under the umbrella of poverty. It sounds grim, and it was, but it was fun.
I found an acceptance there, a great tolerance of difference, cultural diversity, creativity, community and, of course, hedonism.
The spirit seemed to be doing whatever you did without needing permission. It felt like freedom.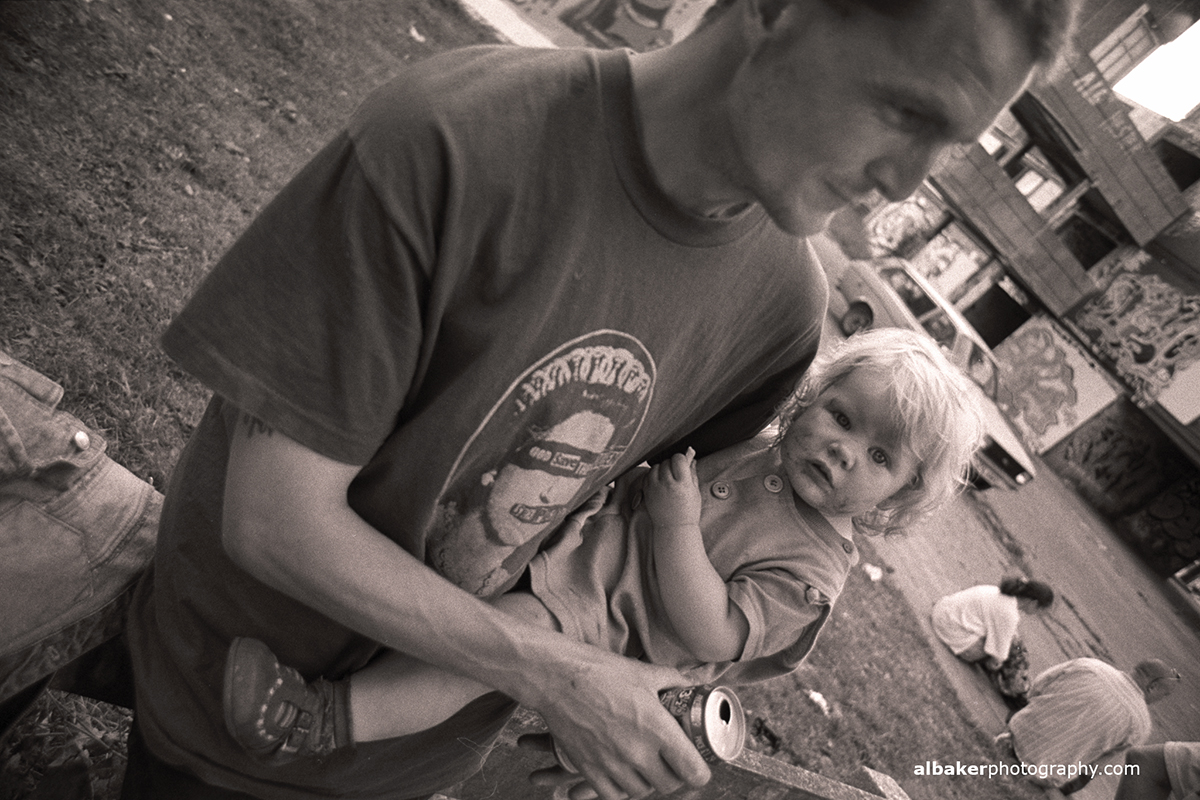 How is the area now?
Well 90% of the pubs and people are gone. We've gone back to red bricks and through roads. It's changed forever, but that's how it is.
The University now own huge tracts of it, which is ironic because they used to warn students never to dare venture into the social badlands they might see from the lofty windows of their lecture theatres or Halls of Residence.
Now they've bought up the heart of it. In one way that means that the area still has a young transient population. On the other hand are all those people I knew that were compulsory purchased, shipped out and moved on. Mere objects on a town planners' breakfast table.'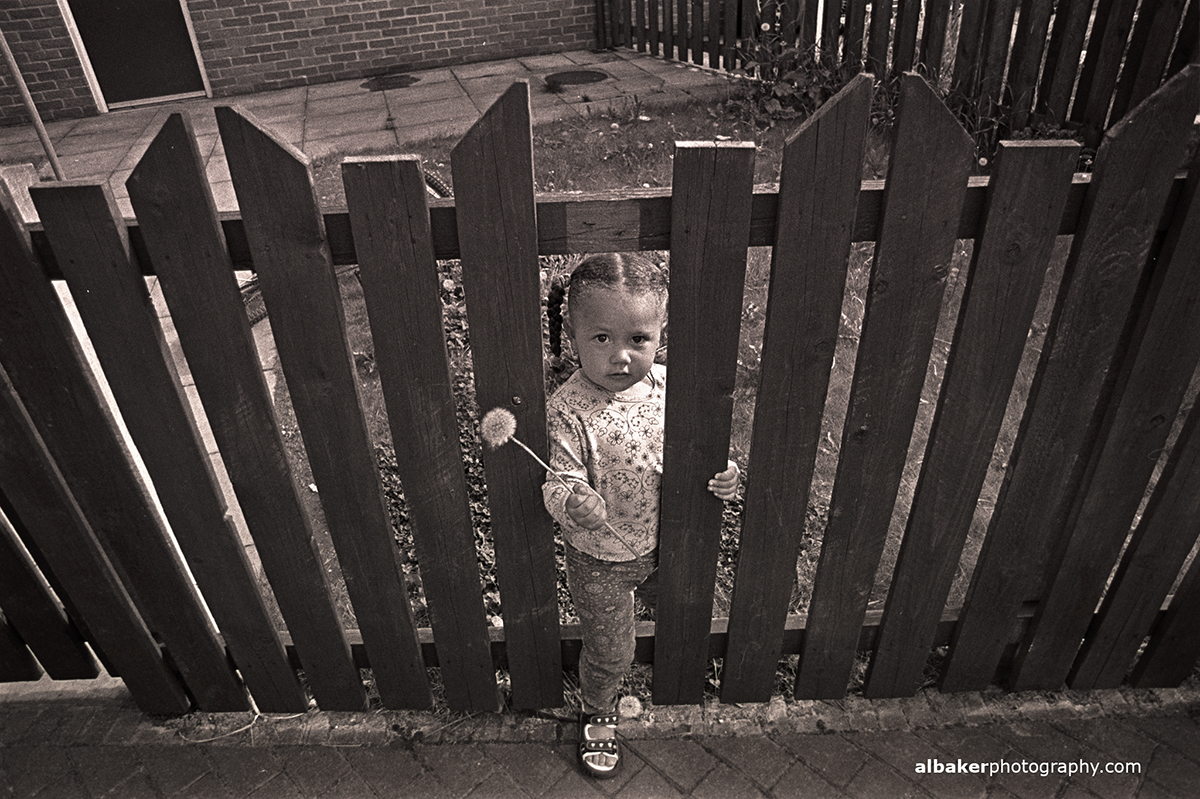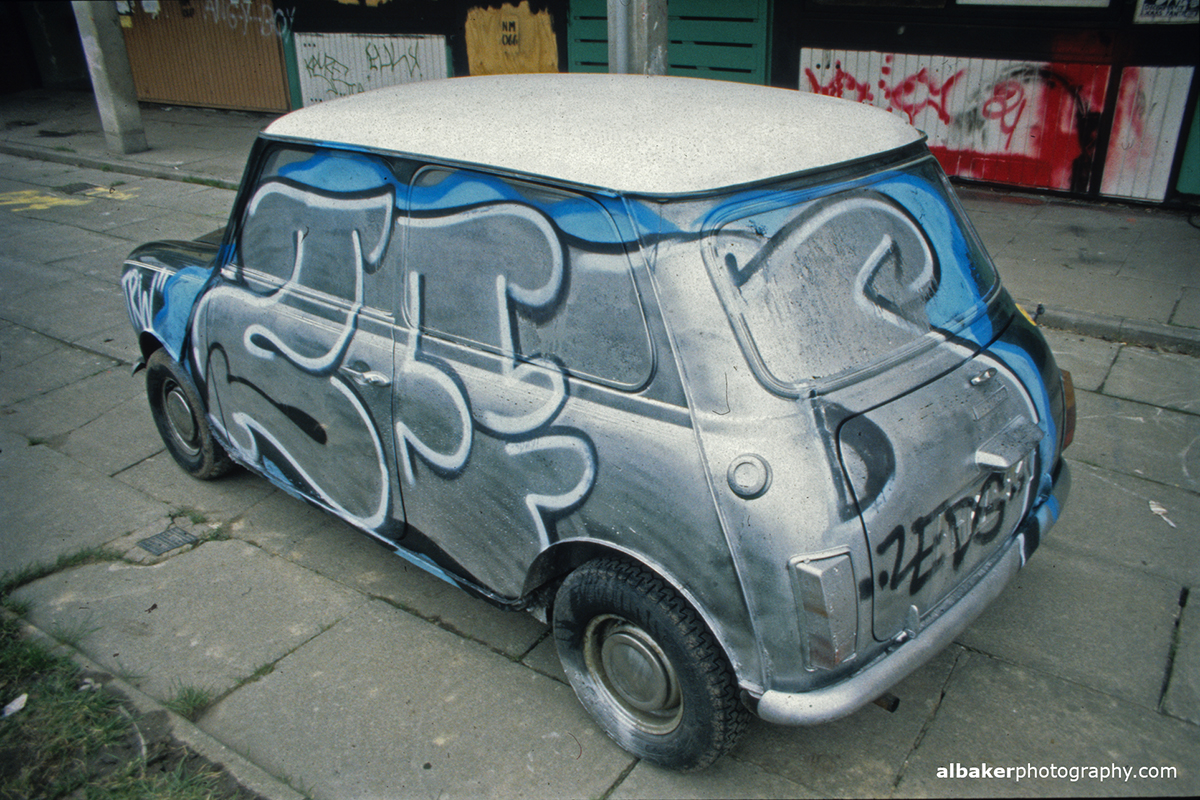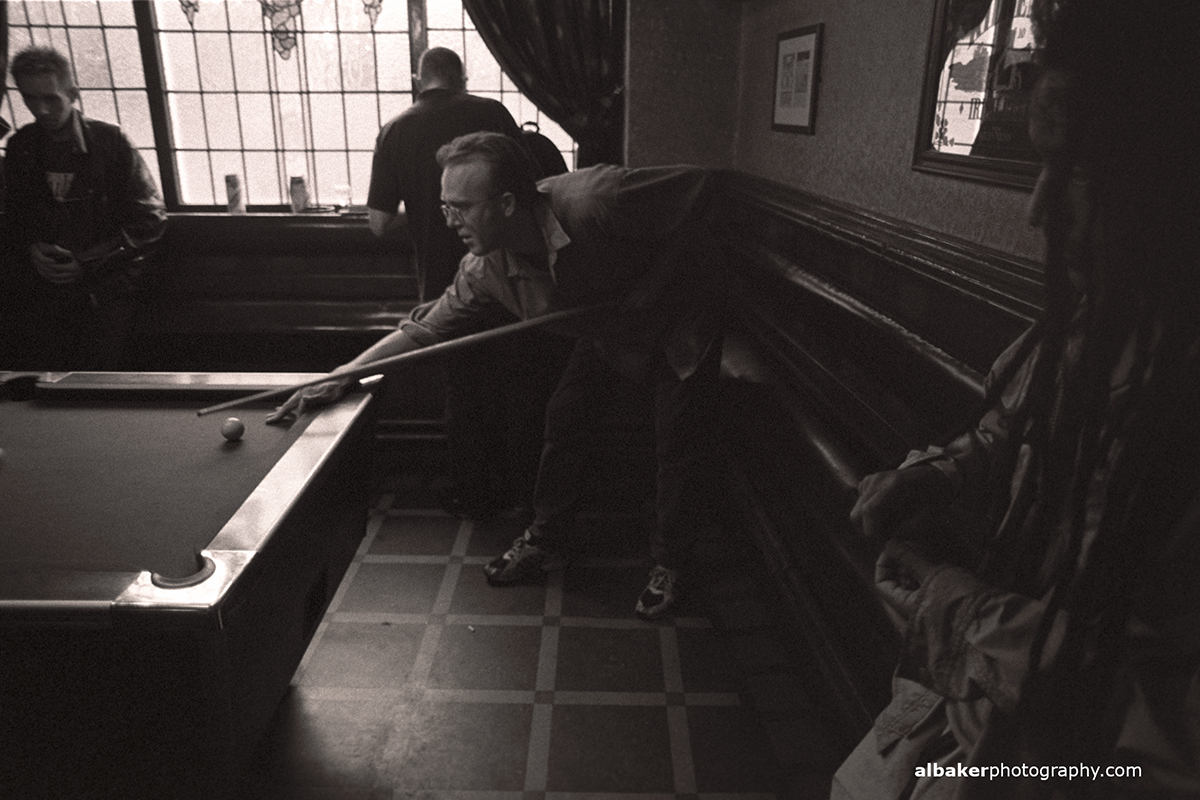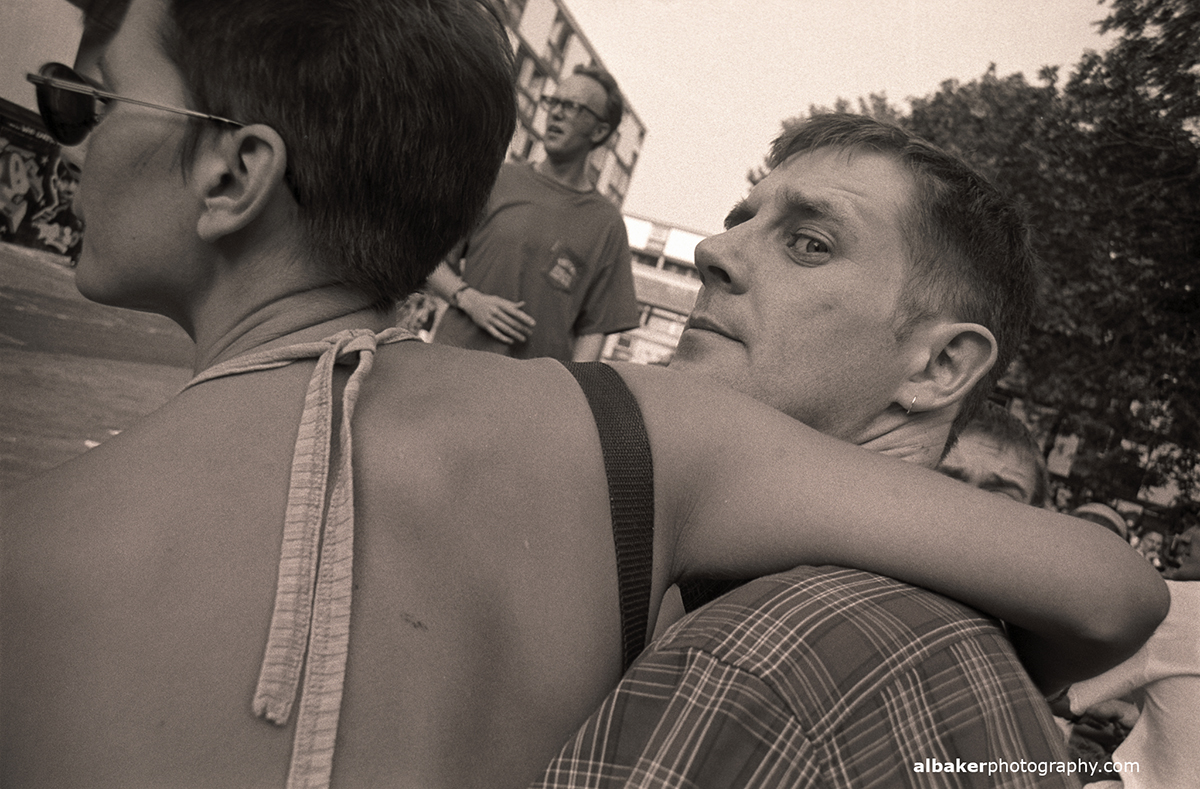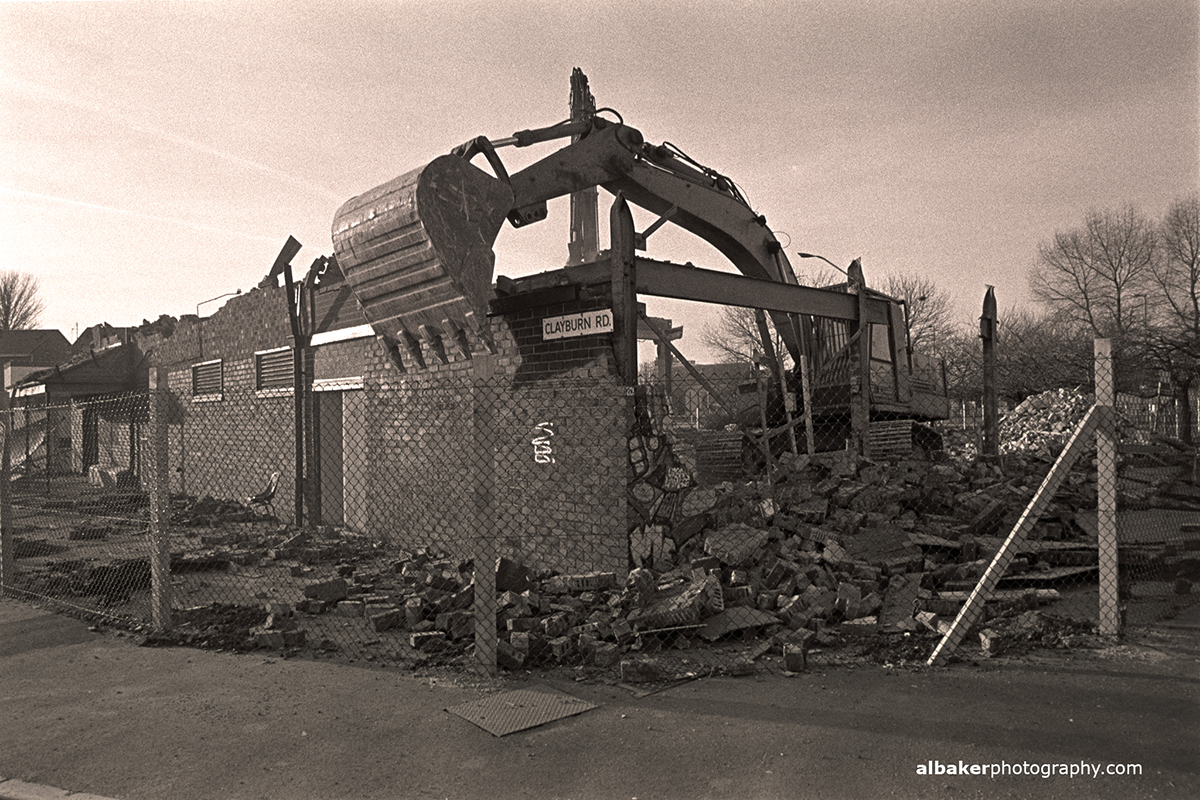 Enjoy that? You might also like this...
Ab Badwi: Photographing A Different Toxteth
---
29.04.15 / Words: Jonathan Frederick Turton
---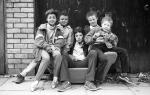 During the 1980s, Toxteth's reputation was at its lowest ebb. The riot of '81 had come to characterise Liverpool's inner city ward&... Read More
Mike Garry: An Ode to St Anthony
---
05.09.14 / Words: Jonathan Frederick Turton / Images: Amy Walsh
---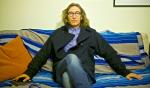 Joseph Roux had it right when he said 'poetry is truth in its Sunday clothes'. At least good poetry is. Mike Garry, Mancunian wordsmith and permanent support a... Read More