Lost Art: Fifteen Years Deep
---
04.09.14 / Words: Daniel Sandison / Images: Paul Mortimer
---
Lost Art is a Liverpool institution. For fifteen years it has been a subculture waiting to erupt. Bubbling under and threatening to disrupt the status-quo of affable post-casual re-issue peddlers and faux-heritage nonsense that have become ubiquitous on Merseyside.
Whilst skateboarding remains a broadly alternative pursuit in the city, Dave Mackey's store has began to reap the benefits of a decade-and-a-half of refusing to compromise.
"It's probably the last five years that Scousers who don't skate have started to take an interest and have come in to buy our shirts" explains Mackey, seemingly still impressed that his creation has crossed over in such a manner. "They stand out, not in a bad way, but they're not our typical customers. A few years back someone from the Everton first team came in to buy stuff and there was this big hoo-ha. I didn't know who the fuck he was, but that was when we started to think that we were getting across to a completely different crowd."
Playing second fiddle to football is a fact of life for any cultural endeavour within Liverpool's confines, but a keen knowledge of what makes Scousers tick has ensured that Lost Art has sewn itself neatly into the fabric of the city.
"We did a shirt that was a take on a very famous brand that was synonymous with Liverpool at the time. It was a joke, at first. It was our tongue-in-cheek way of saying 'look, we're from Liverpool', but that seems to have moved us forward. It's crossed over and now it's sought-after all over the world. It's gone crazy"
Whilst Liverpool and Skateboarding may seem at crossed purposes, uncomfortable bed-fellows in a society clamouring for limited edition footwear, Lost Art – to even the most casual of observers – has begun to make a dent in how Scousers are represented. Much like the mythical Peter Storms and Forest Hills of yore, that small green crocodile – that they so smartly reclaimed - has bestowed its wearers with a sense of belonging. Is Lost Art one big family? Or are we doing that over-sentimental thing that Conservative politicians accuse Merseysiders of sometimes?
"It's unusual, with Liverpool, that it doesn't have a skate park within the city centre. Predominantly kids street skate here. It's like that New York thing, you get kids skating round and interacting with everyday life. That's missing from a lot of cities, but here it is very much part of it. That way, you still get rough city kids who skate. Kids from inside and outside of the city who are perhaps using skateboarding as an escape from a pretty shitty way of life. That's hopefully still true today. We hope the store is an environment that invites those characters to come and be a part of it. It's great that we can be part of that with them. We've grown up with them."
Mackey speaks about his store's impact on a rapidly changing Liverpool with a refreshing lack of arrogance or pretence. It's no exaggeration to claim that Lost Art, and those involved with the store, have genuinely transformed lives, given kids a purpose within Liverpool and provided much-needed rejuvenation to a youth culture that hadn't truly changed since the early 1980s. So how does he go about balancing this role as unofficial skate youth worker with shifting shoes, looking after his own young family and, very now and again, doing some skateboarding?
"I'm skating barely once a month, if I get chance. Unless I'm filming for something. If I could skate every day I would, for sure. It's hard to find the time with family and the store, but I still ride for Nike and I ride for The National. I very much still partake. I hope that come across with the store, that I'm still very much active in that aspect. We've been trying to make a Lost Art film for fifteen years now, so hopefully I'll put in some time for that and we'll get it done. It's exciting, still."
After fifteen years Dave Mackey seems as comfortable with Lost Art, as his store sits comfortably within the city. He speaks with the same enthusiastic fervour about plans for his own shop, as he does about visiting Supreme on a trip to New York in the 1990s. Skateboarding and skate culture may be on the up-and-up worldwide, but in a corner of Liverpool he, and a tight-knit family of collaborators, are the same as they ever were. It's still working.
Enjoy that? You might also like this...
Teva
---
04.09.14 / Words: Matthew Staples / Images: Peter Atherton / Styling: Matthew Staples
---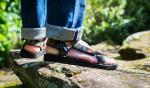 Teva's Original Universal was created almost three decades ago, by a Grand Canyon river guide. Combining the best bits of a shoe and a sandal, through the magi... Read More
When The Man Comes Around: Stan Smith Returns
---
04.09.14 / Words: Daniel Sandison / Images: Adidas
---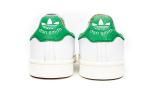 Worn by everybody from David Bowie and John Lennon, to your Dad's mate with the nice coats and dubious past, adidas' Stan Smith tennis shoe has been an absolute essentia... Read More