Ross Barkley: The Kids Are Alright
---
05.09.14 / Words: Mathew Robinson / Images: Nike
---
Roy Hodgson turned to his young stars in Brazil this summer. Ross Barkley, probably the pick of the bunch. The Liverpool native thrived under Roberto Martinez at Everton last season; a raw talent who's been on the verge of a breakthrough to the first team since Tim Cahill described him as "the most talented footballer he had worked with" at the beginning of 2011-12 season.
At twenty years old, he is now a key part of the Everton side as well as a fledging member of the England squad. We caught up with the midfielder just weeks before he headed out to Rio.
What are your feelings on last season?
"I did well and enjoyed the season. I'm not thinking about that now though, that's in the past. I'm just thinking about doing well in the rest of the games."
A player, who last season played reserve team football, as well as spending time on loan in the Championship with Sheffield Wednesday and Leeds United respectively, is now playing regularly for Everton in the Premier League. Has Roberto Martinez played a part in this step up?
"Yeah, he's played a major role in that. He's helped me tactically, he's helped me believe in myself on the pitch, and he's given me the confidence to go out there and do what I know I'm capable of. He's been a good role model for me.
I've learnt a lot over the past twelve/eighteen months from going out on loan, and playing reserve team football. Now I'm playing in the Premier League with Everton and for the England Senior side. I have learnt to express myself more on the pitch, to not be afraid of taking risks and also tactically I have improved my game under the manager."
Barkley's youthful exuberance and powerhouse midfield displays have already had the Premier League purring, and with the World Cup fast approaching he is dreaming of rubbing shoulders with the world's elite this summer in Brazil; something that clearly wouldn't faze him. Do you ever stand on the same pitch as the likes of Van Persie and Aguero and pinch yourself?
"No, because they've been in my position years ago and they know what it's like. It's obviously good to be on the pitch with big name players, but I see myself hopefully being like them in the future."
England will surely benefit from Barkley's confidence and the scene is set this summer. This boy is ready to announce himself on the world's biggest stage. After already representing England at every possible youth level, Barkley captained England under 16's to the Montaigu Tournament in 2009, and clearly is very happy to be a part of Roy Hodgson's twenty-three-man squad. How does it feel making the plane?
"It's a sign I'm doing well for the club. I've always dreamed about doing well for Everton, so I'm over the moon. It's every kids dream."
Barkley made an assured debut for the England senior squad against Moldova earlier this season and looking forward to the World Cup, he is clearly confident that the future is bright for the Three Lions. There is a balance of experienced heads and exciting young players within the squad. How good do you think this side could be?
"We've got great talent and spirit in the squad, if we play to our potential then I believe we can go far in the competition – it's a case of showing the kind of form we have week in, week out for our club teams." As we chat Barkley is relaxed and enthusiastic about his love for football. He recognises the importance of pulling on an England Shirt and is eager about Nike's latest effort for the World Cup.
"We've tried it on. It's a nice fit, a good design and I'm looking forward to wearing it. It's got a real classic look to it and I know it's been made with the Brazilian conditions in mind, so it has gone down really well with the squad." Everton have a growing contingent in the England ranks. Phil Jagielka and Leighton Baines are favoured by England manager Roy Hodgson, both widely recognised as part of England's strongest back four. How have you adapted to being in previous national sides? Have the Everton lads kept an eye out for you?
"Yeah, they have looked after me. Whenever I have needed to know anything important they have always text me or called me, or I have gone down to their room. It's helped me a lot having them in the squad."
England Captain Steven Gerrard this season has already likened Barkley to French legend Zinedine Zidane and his club manager, Brendan Rogers, described the player as "the best British talent I have had the pleasure of watching." Not bad accolades for a player who suffered a double leg break playing for England Under 19's a couple of years ago. Did you ever worry you'd never play again?
"Well, the doctor in Belgium told me it could be difficult to recover fully when I broke my leg, but when I came back to England I was told it's going to be alright and I've been able to get back to one hundred percent."
Interviewing Ross Barkley, one thing is for sure; this isn't a man lacking in confidence. How have you dealt with the rise from Liverpool lad to household name in such a short space of time?
"I haven't changed. I just see it as doing well in football. Football is the biggest sport in the world. I knew it could happen one day."
Enjoy that? You might also like this...
Passport Required: Mundial x Oi Polloi
---
04.09.14 / Words: Daniel Sandison / Images: Michael Kirkham / Styling: Matthew Staples
---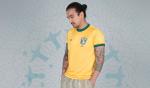 England: Gary loves beer, gear and throwing garden furniture. He wears Stone Island Zip Sweatshirt, Norse Projects ... Read More
When The Man Comes Around: Stan Smith Returns
---
04.09.14 / Words: Daniel Sandison / Images: Adidas
---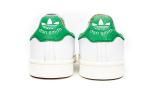 Worn by everybody from David Bowie and John Lennon, to your Dad's mate with the nice coats and dubious past, adidas' Stan Smith tennis shoe has been an absolute essentia... Read More