Skiing In Romania
---
05.09.14 / Words: Joe Connolly / Images: Joe Connolly
---
We're sat in a restaurant at ten o'clock in the evening and a Romanian folk singer has just said "and now a song for our English friends" before jumping head-first into Timbaland's Too Late To Apologise. The sparsely populated restaurant looks on as we try so, so hard to contain our laughter. We've been skiing in Romania.
Because I'm devoid of logic, I follow Liverpool Football Club home, away and across Europe. I've found myself in all sorts of noteworthy predicaments but none quite as noteworthy as Romania. I loved it. I'm never going back…
Four of us flew into Cluj Napoca, in northern Romania, we had 8 hours before our overnight train to Romania's capital - Bucharest. In those 8 hours we made our way to the home stadium of CFR Cluj, where we were promptly chased by men in questionable trainers queuing up for tickets for CFR Cluj vs Steaua Bucharest. We retreated to the deceptively named Roland Garros bar in central Cluj and played electronic darts for 6 hours. We'd paid for First Class on our overnight train, which got us bunk beds and a tap that didn't work. The only way I could get through the night was to torment my loyal friend Phil. I wouldn't let him go to sleep until he'd written me a pop song. Hours passed. Eventually, at 4:30 in the morning, he obliged and reluctantly sang "You're my Tokyo lover, you've got an iPod Nano" I laughed hysterically and let him sleep. The next two nights were spent avoiding packs of stray dogs, watching the football and singing Phil's pop song at any given opportunity. We beat Unirea Urziceni 1-3.
There's a certain type of person that goes skiing and it's certainly not us. One friend thought Après-ski meant eating outdoors and another thought it was a cereal bar. If, like us, you're not really a Ski person then the resort of Poiana Brasov might just be for you. According to the website it's "The biggest and most luxurious winter resort in Romania". That was enough for us to prolong our trip by three days and take the 4 hour train from Bucharest to Brasov.
It feels a bit like they've built loads of hotels, some ski lifts and forgotten to check the weather. The lack of any visible snow didn't dampen our spirits too much however, because the hotel was much nicer than "The Funky Chicken" Hostel we'd stayed in in Bucharest. The Ski hire was comically cheap and lift passes were the same. I mastered skiing remarkably quickly. I could stand up, turn and go forward. All the good bits. Couldn't stop, though and that quickly became an issue. There is no feeling quite like gaining momentum with no way of slowing down and the only certainty in your life being that you *will* hurt yourself, it's just a case of when, and how badly.
The Après-ski was fantastic. Sort of. We found a traditional restaurant where we were serenaded in our native tongue, then moved on to the intimidatingly named Avalanche nightclub. It had plasma screens outside showing the CRAZY goings on inside. Girls stood on the bar, champagne getting passed over peoples heads, the lot. Turns out that was a pre-recording and it was just us and a few curious looking locals. Nevertheless, due to it being £1.00 a pint, we had a fantastic time.
Poiana Brasov is the type of place that you really want to do well. They've tried really, really hard and the locals are friendly, helpful and sing Timbaland songs at you. You should all go.
We left Poiana Brasov at 5am to catch a train to Bucharest. I've never, ever been so tired. I'd spent two entire days falling over, something an adult male should not be spending two entire days doing. We trudged into the station, like beaten men returning from battle. I was eating a stale bread roll to complete the look. We were suddenly approached by 20-odd frightening men chanting "BU-CHA-REST HOO-LI-GANS". A quick glance around my friends confirmed what I feared, we had absolutely no intention of putting up any form of fight. They were welcome to everything. Even my stale bread roll. They were neo-Nazi Steaua Bucharest supporters on their way to Cluj for their game against CFR Cluj.
"Oh yeah? We were outisde their ground the other day mate, had to get off because it got a bit on top" "Kiss me for the brotherhood" "No thanks" - It went on like this for a few minutes and the more we refused to kiss them, the more aggressive they got.
As far as I was concerned, it was curtains for me and my stale bread roll. Then, a big massive wardrobe of a man appeared from behind some lockers and marched towards us purposefully. He got towards my friend Phil and bellowed, "YOU'RE MY TOKYO LOVER". I dropped my stale bread roll. They'd been on the same tram as us three days earlier in Bucharest and had listened to us singing Phil's pop song. A song they now claimed as their own, the aggression turned to laughter and we were safe.
I'll probably never go back to Poiana Brasov. I'm glad I went.
Enjoy that? You might also like this...
Passport Required: Mundial x Oi Polloi
---
04.09.14 / Words: Daniel Sandison / Images: Michael Kirkham / Styling: Matthew Staples
---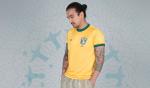 England: Gary loves beer, gear and throwing garden furniture. He wears Stone Island Zip Sweatshirt, Norse Projects ... Read More
When The Man Comes Around: Stan Smith Returns
---
04.09.14 / Words: Daniel Sandison / Images: Adidas
---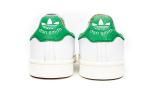 Worn by everybody from David Bowie and John Lennon, to your Dad's mate with the nice coats and dubious past, adidas' Stan Smith tennis shoe has been an absolute essentia... Read More