Unlikely Style Icon: Kevin McAllister
---
04.09.14 / Words: Daniel Sandison / Images: Jamie Mattocks
---
It's Christmas time. There's no need to be afraid… That is unless you're Kevin McAllister of course, for whom the festive period is full of not only harrowing parental neglect, but also a tumultuous grapple with two comically haphazard criminals.
With startling regularity poor Kev is dumped by his parents, and extended family of all-American caricatures, to fend for himself over the most wonderful time of the year. It's a good job he's prepared.
Between soaking ropes with kerosene and bludgeoning curly-headed buffoons with house bricks, McAllister junior has got home security on lockdown. It is the organisation of the Home Alone Winter Lookbook however, that we are far more interested in…
From the moment we were introduced to John Hughes' 8-year-old hero in 1990, he exuded effortless cool. With a penchant for knitwear and informal layering that would put McQueen in the shade, and an array of military surplus that would have Serpico sobbing into his chambray, the young man manages, over the course of 224 minutes, to provide not only two of the finest Christmas films you will ever see (no back answers), but also a menswear masterclass.
Mixing plaid with a sensational array of knits and a chillingly Aryan complexion, Kevin takes the boy-next-door image and gives it a shot in the arm. One part Dennis The Menace, two parts John Rambo and a sprinkle of Deer Hunter, he was embracing that 'Heritage' carry-on whilst the rest of us still had poppers on our tracksuit bottoms. Hiking boots and a bobble hat complete a look that, to this day, leaves the internet's most casualest casuals scrabbling around for discount codes and rendering their computer's F5 key out-of-order through overuse.
Whether blowtorching Tommy from Goodfellas' scalp in the comfort of his own home, or befriending a pigeon-covered Susan Boyle-alike to escape the mean streets of New York City, he doesn't put a foot wrong. Kevin's real life counterpart may prefer the gaunt, black T-shirt Hollywood look these days, but through the first two Home Alone films Culkin has left us an icon that will never fade…
#UnlikelyStyleIcon
Those 'Get The Look' things are lazy, aren't they? Really poor and the solace of people who have got no creativity, and wet jeans overlapping their trainers. Anyway, with that in mind, we've got together with Mancunian menswear floggers, Oi Polloi, to show you how you can 'Get The Look' of our latest Unlikely Style Icon…
Chamula Double Cuff Cap (Fairisle Royal Mix)
£56.00
The Double Cuff Cap is a proper-warm winter hat from Chamula. Made in Mexico from the wool of locally grazing Merino sheep, it's not only super-soft, but it's got that personal touch that only the calloused hands of hardened Mayan knitters can give.


Gitman Vintage Button Down Shirt (Indigo Flannel Red)
£165.00
When it comes to shirts, not many make 'em better than the Gitman Brothers. Slightly darted at the sides, their shirts add a bit of class to any proceedings. This beauty here is a soft, brushed cotton flannel shirt that's been dyed using indigo. As everyone knows, indigo is the stuff that makes your jeans look good, so we're predicting this should look equally good after a few washes.
Polo Ralph Lauren Cable Knit Crew (Navy)
£104.00
The Polo Ralph Lauren Cable Knit Crew — a no nonsense cotton knit from Lord Ralph. It's what menswear aficionados might call a 'succinct option for Autumn layering', but as it's cotton you can pretty much wear it whenever you damn well please.


Woolrich Arctic Parka DF (Kelly Green)
£629.00
The Woolrich Arctic Parka was originally designed for workers on the Alaskan Pipeline who had to cope with temperatures well below freezing. This version here, known as the Arctic Parka DF, is a slimmed down version, with a more modern fit. But don't worry, it's still an ideal heavy-duty winter jacket.
Levi's Vintage Clothing 1975 519 Bedford Cords (Cumin)
£145.00
What you're looking at here are a pair of 1975 519 Cords. These are a straight up reproduction of the cords that Levi's were making in the mid seventies, and they're good. Very good. They've got a sharp, straight fit that's narrow without being too slim. The washed fabric isn't half bad either... we're always partial to a bit of corduroy action and we're pleased to say the cord used here received a unanimous head-nod from our Cord Inspection Committee.
Enjoy that? You might also like this...
Unlikely Style Icon: Patsy Parisi
---
04.09.14 / Words: Ste Turton / Images: Roy McCarthy
---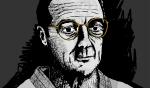 There's some serious clobber knocking about David Chase's fictional New Jersey. From Ralph Cifaretto's exquisite neckerchiefs to Tony's sho... Read More